Aditi For Life: Why Consultants Love To Work For Aditi Consulting
Consultants often find themselves up against a perpetual challenge: seeking assignments with a company who cares. When it comes to choosing your next assignment, it's important to take your career as a whole into consideration.
With our Aditi For Life Redeployment Program, our consultants can be assured of continued support throughout their career. We frequently redeploy our talent pool into new projects, so they don't have to hit the market each time an assignment concludes.
This not only saves consultants the hassle of frequently looking for new placements, but also builds loyalty and trust. As a result, consultants can focus on doing great work, secure in the knowledge that Aditi will be there to help with their next move.
Partnering with Aditi
At Aditi, we recognize that our consultants are more than just a skill set on their resume - they're people with their own career goals and vision. That's why, when we redeploy our consultants, our dedicated team works with them personally to find new assignments that align with their individual career aspirations.
The benefits are clear for both parties. Besides, having an empowering and award-winning people-first culture, we partner with consultants to help them find fulfilling new roles as they learn and grow in their positions, allowing us to offer a highly skilled talent pool.
Meanwhile, consultants can take comfort in knowing that when they choose Aditi, their work will be rewarded with not just our benefits and perks but also with our continued support through each assignment and beyond.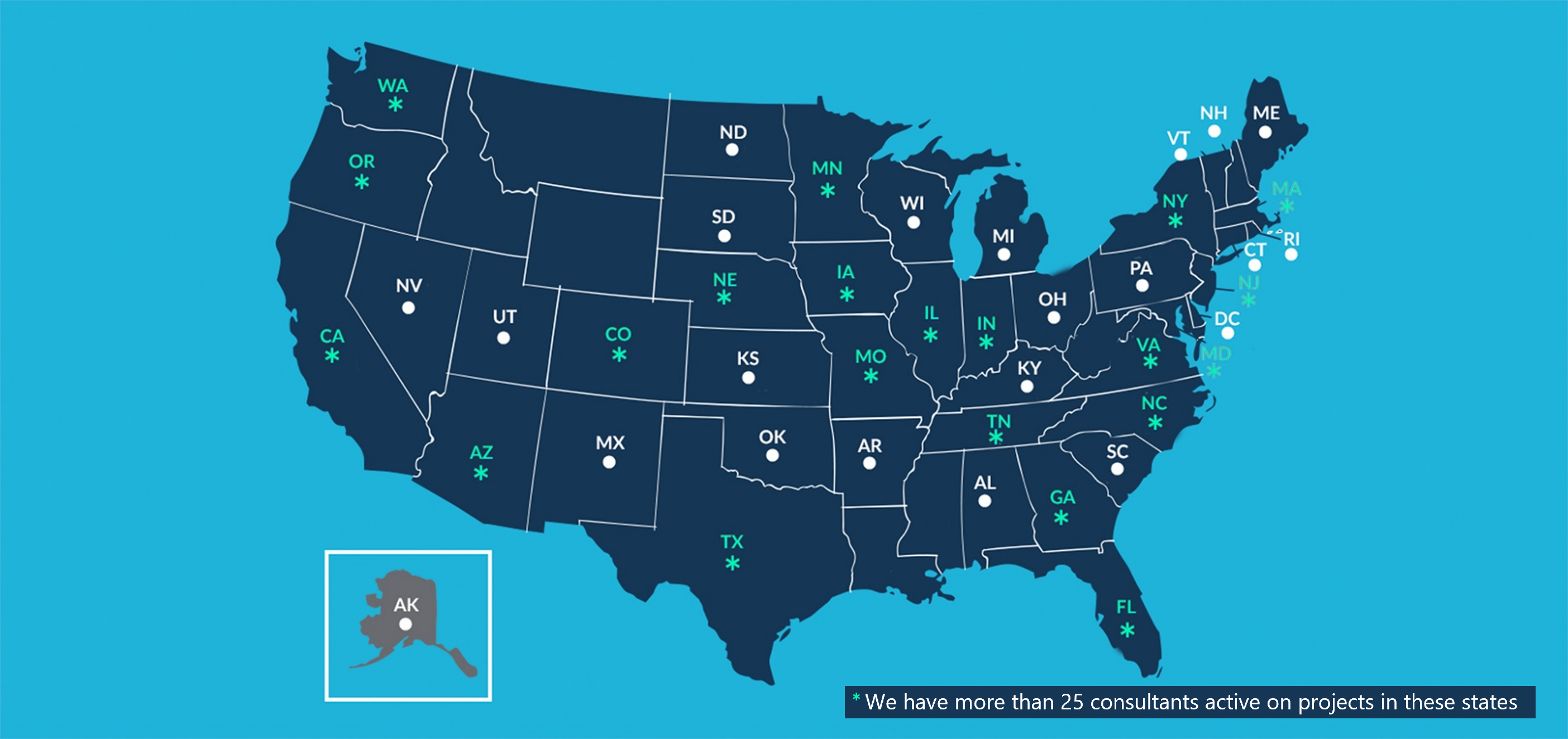 Our talented people have been deployed all over the U.S. and in many states, there are more than 25 active Aditi consultants at a given time. We also support remote roles, so there are enough and more opportunities available no matter where you want to work from.
Ongoing Career Support



Consultant satisfaction drives the results that clients are looking for. Aditi offers dedicated teams available 24/7 to assist our consultants with their questions and needs. It is important to us that there is an open line of communication ready when it's needed the most. Our Talent Experience team holds regular check-in calls with our consultants on assignment to understand their experience when deployed.
By giving our talent the support that helps them to thrive, many choose to stay on at Aditi and redeploy with us into a new project once they conclude their old one. In fact, every month we have more than 200 consultants in conversation with us over redeployment into a new assignment.
We bring together our resources to form a strong foundation of support. Our recruitment team works closely with our consultants to find the right career fit, ensuring they find roles to help them stretch and grow.
Our level of dedication helps to ensure that we're placing people where their contributions are needed most, which is essential to maintaining the quality of work Aditi Consulting is known for. We are committed to providing our consultants with the best possible experience, and our redeployment initiative is just one way we do that.
Redeployment Sets Aditi Apart
Whether you are beginning your consulting journey with Aditi or you're a seasoned professional, you'll find that we make a great partner. Even before starting with your first placement, you are a valued part of our family, and we'll support you through each career move you make.

Interested in meeting with our recruiters? Join us for Aditi Connect, our annual career event and see how we can help elevate your career. You can register now.
Want to check our current open roles? They can be found here.