IT Budget Planning: Thinking Beyond Tools to Tech Talent
For most companies, the pandemic proved to be the accelerator rather than the barrier to their digital growth.
"Whether they were launching digital transformations, new workforce-access models, or updated customer interaction technologies, many proactive companies used the crisis to make things better—to get to a, 'safer and better normal,'" Google Cloud vice president and general manager Sunil Potti recently told Deloitte.
While the roller coaster ride of the last two years created uncertainty and made it more challenging for the IT industry as a whole, the technological deficiencies exposed by the diaspora of the American workforce proved to be the spark for many companies to refocus their budgets on a long-overdue digital transformation.
It's no surprise then that a majority of IT professionals (83%) who responded to Aditi Consulting's The Great Acceleration survey said they expect that in the next year, their overall IT/tech budgets will increase.
IT Spending During the Pandemic
Covid became one of the most significant disruptors to the tech industry in recent years, forcing companies who hadn't already done so to refocus efforts and budgets on ensuring cybersecurity and business continuity in the face of a disrupted global economy.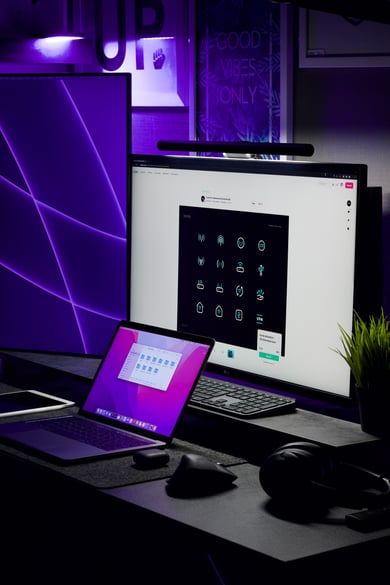 It became painfully clear which companies had made technology investments that allowed them to remain resilient and agile in the face of uncertainty and rapidly changing environments. COVID-19 forced companies to prioritize IT budgets over other business goals, in order to keep their employees connected to critical infrastructure and their business functioning.
Worldwide IT spending actually declined 3.2% in 2020 to $3.7 trillion, according to Gartner, who had initially projected IT spending to increase 3.4% from 2019 to 2020.
The decrease was due in part to CIOs needing to prioritize "spending on technology and services that were deemed 'mission-critical' during the initial stages of the pandemic."
However, the pandemic-sparked acceleration of tech innovation led to an increase in IT spending in 2021, which was up 12.8% to $4.2 trillion.
In 2021, IT's transition from back-office support to "fully participating in business value delivery," became clearer, notes John-David Locklock, vice president at Gartner.
Responses from Aditi Consulting's The Great Acceleration survey confirm IT's transition to a critical partner in achieving business goals with 53% of respondents saying that at least 50% of their company's overall revenue is spent on technology.
Economic recovery continues with expected increases in IT operational spending, and worldwide IT spending is projected to total a whopping $4.5 trillion – a projected growth of 5.1% from 2021.
As the world slowly and optimistically moves forward in a post-COVID, the IT spend forecast will continue to grow as tech looks to move beyond the "make it work" projects of the pandemic and start to focus on strategic planning for the future.
Projected IT Spending in 2022 and Beyond
With IT moving out of the ad-hoc budget phase of the pandemic and looking toward a more strategic and calculated approach to spending, there are key areas that will undoubtedly continue to see further technology investments: cloud computing, cybersecurity and cyber resilience, and talent sourcing.
Tech insiders who responded to Aditi Consulting's The Great Acceleration survey noted their companies plan to allocate the majority of their increased tech budgets toward:
Cloud Technology (35%)
Cybersecurity (22%)
Project Management (13%)
During the pandemic, those companies that had already invested in or jumped on cutting-edge technologies saw more success than others, according to a 2020 McKinsey report.
If they haven't already done so, most companies are now investing in technology to help them remain agile, improve productivity for a distributed workforce, and implement robust cybersecurity measures as part of their long-term business strategy.
However, there is a catch. IT operational spending budgets must also address the existing IT skills gap. As companies look to further invest in IT, they are also faced with a competitive labor market, wage inflation, and a war for specialized talent, especially in the advent of The Great Resignation.
The Challenge of Sourcing Tech Talent
Investing in new technologies is just one part of a successful business strategy. The other requires that companies ensure capable and knowledgeable talent is in place to implement and manage that technology.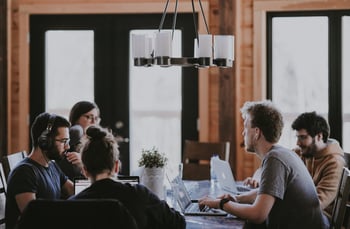 The biggest business challenges facing companies in the face of The Great Resignation according to respondents of Aditi Consulting's The Great Acceleration survey are:
Talent Sourcing
Salary Expectations
Remote Work
Retention
The same areas in which companies are suffering a skills shortage are the same ones that most companies expect to invest in in the coming year:
Cybersecurity
Cloud Computing
Custom Development Architecture
As tech hiring will continue to trend higher, hiring managers are faced with the difficult task of souring top tech talent for an increasing number of open, in-demand, highly-skilled positions.
Gartner predicts that companies will "rely more on consultancies and managed service firms to pursue their digital strategies."
They predict that the IT services management sector will see the second highest spending growth in 2022, reaching $1.3 trillion, up 7.9% from 2021. Business and tech consulting spending is expected to grow 10% in 2022.
These numbers are also reflected in The Great Acceleration survey, where 70% of respondents said their companies currently use or plan to use a hiring partner for their 2022 hiring strategy. In fact, 50% of respondents said their companies also plan to supplement tech teams with a combination of near and offshore hires.
Through 2025, Gartner expects companies "will increase their reliance on external consultants as the greater urgency and accelerated pace of change wide the gap between organizations' digital business ambitions and their internal resources and capabilities"
If the last two years have taught us anything it is that being prepared for the unexpected may be the one strategy underlying all business decisions. Remaining agile can help a business stay competitive and help IT prepare for the next major shift in strategy.
Do you need help finding and sourcing tech talent to meet your digital transformation goals, Aditi Consulting can help. Contact us to learn more today.